One of the best part of every camping is food. Everyone is looking forward to it especially when everybody's gathered around the bonfire. So here are some of the best meals you can try to make and take with you on your next camping trip.
Chili Campfire Bake
Because it's not a true camping experience without some chili.
Get the recipe at Six Sisters' Stuff.
Camping Mac n' Cheese
Use blogger Lauren's tip and use mini aluminum pie tins to pre-make macaroni and cheese to later heat up over your fire.
Get the recipe at Lauren's Latest.
S'mores Campfire Cones
This is actually a super-clever way to turn a regular s'more on its head. Trade in your graham crackers for a sugar or waffle cone or a much-easier-to-eat s'mores recipe.
Get the recipe at Frugal Coupon Living.
Omelets in a bag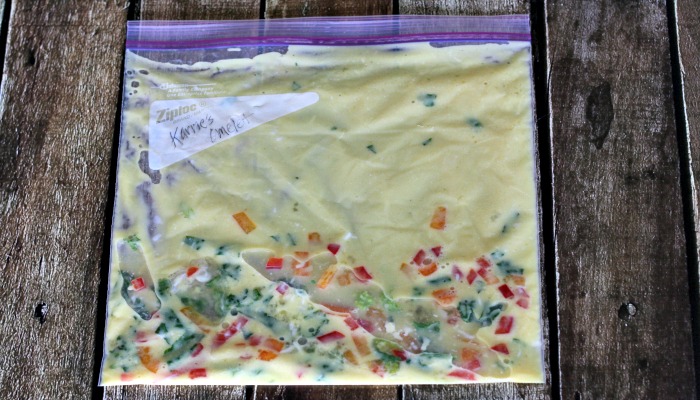 Using gallon-size Ziploc bags and boiling water you can make homemade omelets for your whole family.  Crack the eggs into each individual bag–I like to use 2 eggs per person. Then add in what I like to call the "cleaning out the fridge" toppings–peppers, onions, cheese, ham, sausage, spinach–whatever you have on hand.  Add them to the cooler and in the morning boil a large pot of water.  Drop each bag into the boiling water and cook them for about 12-13 minutes.  After the allotted time, carefully pull out the bags, slide the omelet on to your plate and enjoy!
Taco soup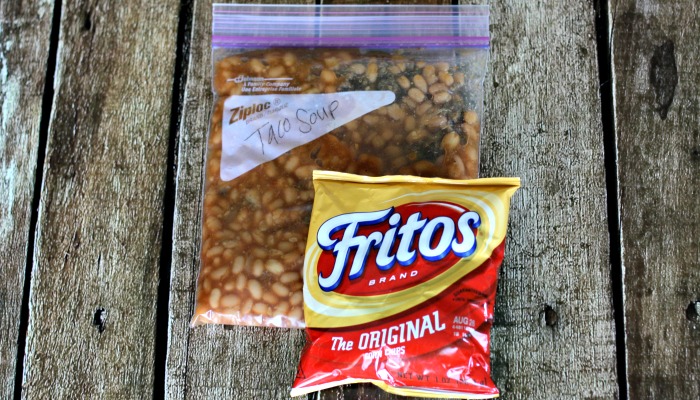 Easy taco soup is made by using 2 cans of stewed tomatoes, 1 cup frozen or canned corn, 2 cups of  homemade beans or canned beans, 1 packet taco seasoning, and 1 lb cooked ground beef.  Throw it all into a pot and cook it together.  Cool it and freeze it into resealable freezer bags. When it's frozen add it to your cooler.  When you are ready for your meal, dump the contents into a pot and bring it to a simmer.  Bring along a small bag of Fritos to add on top and dinner is ready!
Breakfast Burger Biscuits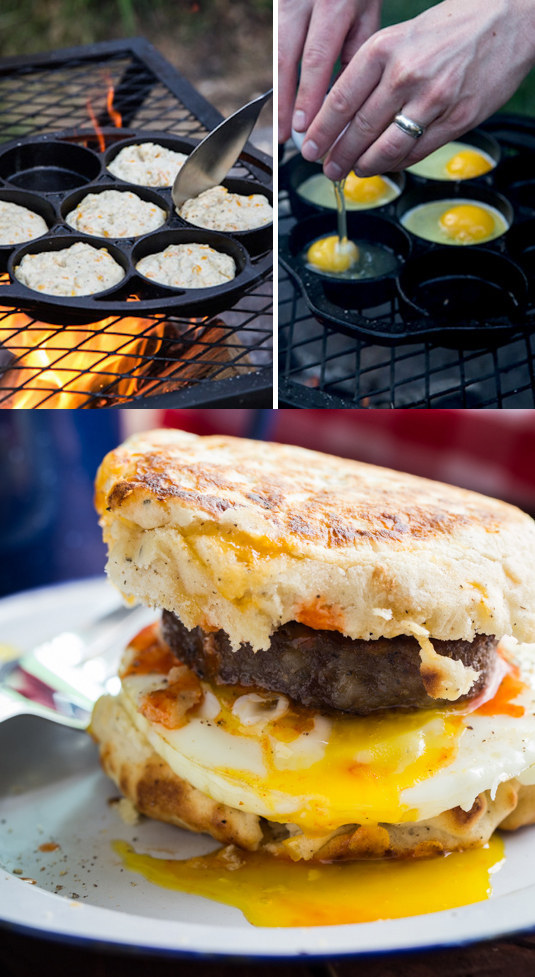 This recipe starts with an easy DIY biscuit mix that you pre-make at home. (Then at the campsite, just add water and heat.) You can also sub in English muffins.
Get the recipe.
Chicken with Roasted Brussels Sprouts and Dill Potatoes
Dinners shouldn't just be limited to hot dogs and hamburgers — this recipe gets a bit fancier by cooking the chicken with white wine and aromatics. (But all the magic happens in the foil packet, so it's campfire-approved.)
Get the recipe.
Marshmallow and Strawberry Kebabs
Have some residual heat left over on your campfire or barbecue? Toast up these sweet skewers with salted caramel drizzle.
Get the recipe.
Cheesy scrambled egg croissants
If you've arrived at your camping pitch late at night, then there's nothing quite like venturing from your nest at dawn to set eyes on your new landscape. Celebrate with an extra special breakfast that will set you and the kids up for the day. These cheesy scrambled egg croissants take minutes to prepare, feel suitably decadent and just use the one pan. Sit back, eat and breathe that fresh air in deep.
Get the recipe.
Sticky cider & mustard sausage wheel with box grater salad
Nothing does campfire comfort like sticky, sizzling sausages cooked outside. Set your kids to work with some veg and a grater, and get them grating salad directly into a plastic box. Then pile up your plates and watch the sun set.Visiting the West Country? Use sausages and cider from a local farm shop.  Be warned, the aroma from this dish is so amazing you might have some friendly neighbors popping over to 'introduce themselves'.
Get the recipe.
Source: Country Living, Happy Money Saver, Buzzfeed, BBC Good Food, Frugal Coupon Living, Lauren's Latest, Six Sisters' Stuff.
Please follow and like us: